The MSU Foundation supports the university through providing enhanced philanthropic opportunities. Information about these programs can be found here. There are a number of options for giving, and the Foundation can work with you to ensure your gift is used in a way that is consistent with your expectations.
If you prefer to give specifically to the department, you may do this through the Foundation's online giving portal. All you need do is designate "Other" and then specify where you want your gift to be used, e.g. CEE Advancement Fund, CEE Building Complex Fund, CEE ASCE, etc.
Civil and Environmental Engineering Complex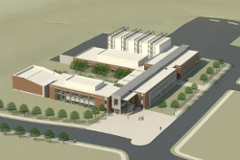 The CEE Building Complex is a proposed new facility currently expected to house over 92,000 square feet of classrooms, a large auditorium, dedicated research and teaching labs, administrative and student offices, team design rooms, conference rooms and library.
Materials preparation, environmental testing, and project staging and storage space will be adjacent to a high bay infrastructure testing facility. This unique space will support large-scale research in materials, structures, geotechnical and water resources areas. Student gathering spaces, secure student project meeting rooms, and student organization space is integral to the design as is space for student projects and large class projects.
Currently, the anticipated total cost of the project is $30,000,000. To date, the combined funds between university commitment and private donations and pledges totals are approaching $25,000,000. The facility could be available for use in 2017. Click here to see more about the complex.