CEE Alumnus Receives Professional Engineering Award
November 21, 2012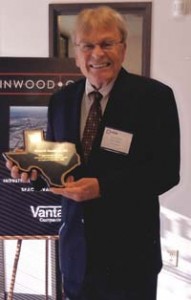 Ernest H. Randall, Jr., P.E. Presdient and CEO of Randall and Associates, an Engineering and Real Estate Consulting Firm, was honored by the Preston Trail Chapter of TSPE at a Luncheon in September 2012.  The Award was presented for Randall's longtime leadership and contributions to the professional Engineering Society and his outstanding Civic activities.  He is Founder and Charter President of the Preston Trail Chapter.
Randall has a BS of Civil Engineering from Mississippi State and a MBA from the University of Dallas.  While an undergraduate at MSU he was a member of the School of Engineering Executive Council.  He served a number of years on the Civil and Environmental Engineering Advisory Board at Mississippi State.  He was named "Alumnus of the Year" by the Dallas Chapter of Mississippi State Alumni.
He was elected National Chairman of the 15,000 member "National Association Industrial and Office Properties" (NAIOP) in 1992 and was chosen as the Outstanding Member of the Organization in 1997.  He is past President of the Greater Dallas Planning Council.  He also served as President of the North Texas Chapter of the NAIOP and on the Executive Committee of the Dallas Regional Mobility Coalition (DRMC).  He served on the Board of Directors of The Real Estate Council of Dallas (TREC).
He resides in Richardson, Texas.  He was Chairman of the Richardson Chamber of Commerce and was chosen Richardson Citizen of the Year.  He also was President of the Richardson Rotary Club, Chairman of the Richardson YMCA, served 2 years on the Richardson Zoning and Planning Council and was elected and served a 2 year term on the Richardson City Council.
He met with President George H.W. Bush in the White Hourse to discuss the Credit Crisis in Real Estate Development.  He also presented a paper on the Credit Crisis entitled "When Dominos Fall" to the National meeting of the Association of Mortgage Bankers in Dallas, TX.
He spent several months on the Mississippi Gulf Coast working with FEMA and MEMA on rehabilitation and reclamation after Hurricane Katrina.
He continues to actively provide Engineering and Real Estate advice to major Companies in the Dallas Metroplex.  He and his wife Jean have 2 children and 3 grandchildren who reside in the area.