Civil alumni receives Blankenship award
October 27, 2009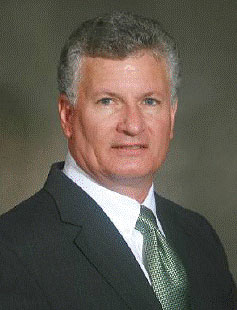 The Blankenship awards are among the highest honorary awards presented to Mississippi Valley Division employees by the local commander. The awards cover three categories: engineering/scientist, professional, and technical/administrative. Established in 1987, the memorialize the commitment, dedication and knowledge of the long-time Mississippi Valley Division Executive Assistant who died in 1973.
Engineer/Scientist Award
Mr. Ken Klaus, a geotechnical engineer in Business Technical Division, was the recipient of the Earnest P. Blankenship Engineer/Scientist Award. Mr. Klaus was recognized for his invaluable support and leadership to the Mississippi Valley Division and its six district offices in providing consultation, oversight, quality evaluations and technical assistance on geotechnical issues.
Klaus was instrumental in developing design criteria, revising policy and sharing best practices on a regional and national level. He led three different teams making more than 15 visits to perform quality assurance and resolve geotechnical issues associated with the testing, construction and design of the Greater New Orleans area's hurricane and storm damage risk reduction system (HSDRRS). Klaus worked with experts in the Corps of Engineers, private industry, academia and contractors on all three teams.
The national Geotechnical Criteria and Application Team reviewed a new draft engineering manual concerning Corps-wide levee seepage criteria – critical to levee design throughout the nation. The two regional teams (the Levee Construction Quality Assurance Team and the Geotechnical Investigation Quality Assurance Team) addressed slope stability and seepage issues for the New Orleans HSDRRS-critical elements in ensuring designs were completed on schedule.
Klaus represented the Corps in an exemplary manner by sharing his expertise and experience as a Keynote Speaker at the 2009 National ASCE Geo-Congress Conference, and by giving presentations at the Corps' Memphis District Levee Meeting, the Levee Summit in St. Louis and the Midwest Levee Conference in St. Louis.